THE HISTORY OF THE DEVOTION
Written by Charito Yeh


Prague is the capital city of Czechoslovakia which is located at the very center of Europe; and its neighbouring countries are Germany, Poland, Russia and Austria. The history of the Infant of Prague started in the 17th century when the statue was brought into Bohemia (now Czech Republic) by a Spanish Lady and was given to the Carmelites at the Church of the Virgin Mary the Victorious in Mala Strana, a small town in Prague, as a spiritual treasure. However, the history of the statuette that has made this church famous began in Spain.
In the Beginning: Spain 1550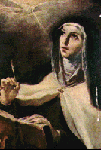 St. Teresa of Avila.
(www.catholic.org/saints)

The popularity of the Child Jesus grew in the Baroque period (Spain) which may have been caused by the visions of St. Teresa of Avila, the reformer of the Carmelite Order who used to bring a statuette of the Infant Jesus with her all the time when founding convents.

The reverence for the Incarnation emphasizing the human side of Jesus Christ who had become a mere child, was very much alive in Spain at the time.






A number of sculptures of the Holy Child were made in Spain and these were made of wax, ivory and bronze and were dressed in garments reflecting the aristocratic fashion of that period. It is unknown to this date which of those early sculptures that got to Prague was the exact origin of the Jesus of Prague.
It was speculated that the statue came from a monastery in Bohemia which was then obtained by Dona Isabella Manrique of Spain. On the other hand, it was also said that the statuette is the work of an unknown artist of Spain and in 1550's it was owned by Manrique de Lara family.
When Dona Isabella's daughter, Duchess Maria Maxmiliana (Marie) Manrique de Lara, married the Czech nobleman Vratislav of Pernstejn in 1556, she received this rare family treasure as a wedding gift and brought the Infant Jesus statue to her new residence in Prague.