FULFILLMENT OF A DREAM
By Susan Hauck
Dear friends of the Infant Jesus,
Greetings of love, peace and joy!
It was September 7, 1998 when the Holy Infant Jesus of Prague (a replica) arrived in Vancouver with me and my husband Larry, and daughter Nicole.
many years ago, Martin Luther King said, "I had a dream," and when Robert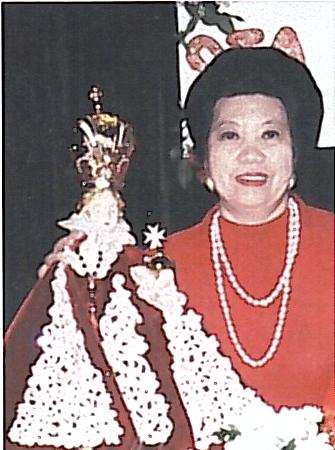 Kennedy made his speech, he said "Dreaming is alive." there was an anonymous man who wrote "Footprints in the sand" and he said that when he walked on the beach, there were two sets of footprints in the sand - one of him and one of the Lord but during the troubled times of his life, there were only one set of footprints. he asked the Lord, "Why is it that during the times of my life when I was down and troubled, you were not there walking with me?" the Lord answered, "it is then when I carried you." Yes Lord you are always therein times of our troubled life.
I, too had a dream. i dreamed of coming to Canada with my mother and 13 siblings. you fulfilled my dream - 7 of them arrived in Canada and 5 followed. I dreamed of going to Prague to visit You. You granted that dream. I dreamed of wanting to touch you when you were up on the pedestal and that night, I dream of You and You said, "I will come down and give you special blessings for you carried me and protected me." Yes Holy Infant, You did come down and bless me.
In my mind, you seem to be alive when I touch you. your skin was flawless and your eyes sparkled like a diamond and your lips wee so robust. I can't help but cry in front of you. a dream fulfilled.
the fourth time I went to Prague I wanted to carry you. yes, baby Jesus, you came down and I carried you.
every night I go to sleep, You are always in my mind and when i open my eyes in the morning, again, You are in my heart and soul for the rest of the day.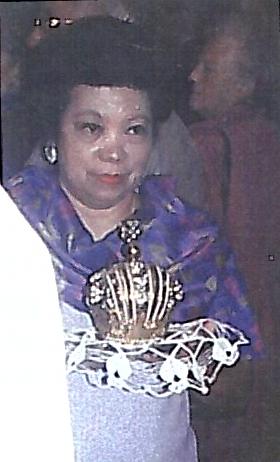 I went back to Prague on your feast day. I wanted to carry your crown. again that night I dreamed that I carried your crown. You fulfilled that dream. During the procession, they forgot to give the bishop Your crown and I was left at the rectory. I was left at the rectory with your crown on the table and as the Mother Superior came back to the rectory, I said, "Sister they forgot the crown! Could I carry the crown?" She had no choice and said, "Yes, you carry His crown and during the offertory, I presented it to the archbishop. Yes Lord you fulfilled that dream.
The last fulfillment Ii want to see is the shrine built for You but, as for now, that shrine is in all our hearts. And if it is God's plan, Thy will be done.
You are the Light in my heart.
You are the Love of my Life.
I live for You, my Sweet.
I will die for you my Love.