Q. How do you pray the Chaplet to the Holy Infant Jesus?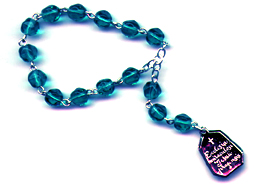 1. Three beads: Our Father
2. Twelve Beads: Hail Mary
3. Each OUR FATHER and HAIL MARY is preceded by: "And the Word was made Flesh and Dwelt among us"
4. End chaplet with Glory Be
5. Leader: "O Holy Infant Jesus"
Response: "Bless and Protect Us". (Say this 3X)
A Description of the Chaplet:
The 3 "Our Fathers" are in honour of the three members of the Holy Family. The twelve "Hail Mary's are in memory of the child-hood of our Lord.
Jesus Himself deigned to reveal this little Rosary to the Venerable Margaret of the Sacred Heart, a Discalced Carmelite nun who died on May 26 1648 in the Carmel of Beaune in France, asking her to make it known to the faithful, and promising most special favours to all who recite it in memory of the mysteries of the Divine Infancy.

Q. Where can I obtain my own chaplet?
If you are in the Greater Vancouver area, please inquire at:

Susan Papas Hauck
c/o 8060 Anderson Road
Richmond, British Columbia V6Y 1S4
Canada
Tel: 604-278-6346